The top 5 Richest footballers of 2016
1
1) Cristiano Ronaldo:
The Portugese and Real Madrid forwards leads the list of the wealthiest footballers. He has achieved this milestone in just 31 years of age. He is the most popular footballer along side his counterparts Messi and Neymar. His net worth per annum currently stands at £122million.
2) Lionel Messi: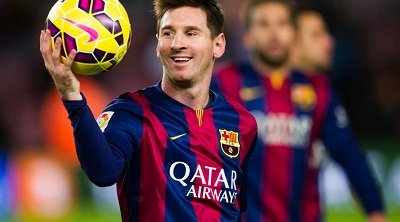 The biggest arch rival of Ronaldo has been definitely Messi. Sometimes Messi is on top, while the other time Ronaldo gains the position. Lionel Messi is the Argentina and Barcelona forward, who has gained popularity due to his immensely talented dribbling and passing skills; as well as speed has made him the second most famous player. Whereas his fame is not just enough. He is the second highest paid footballer, he was teased in his childhood due to his short height, but who could have imagined that this little package would one day make an annual income of £120.5 million.
3) Samuel Eto'o:
The Cameroon international and former Real Madrid striker is the third on the list of most earning footballers. Currently he plays for the Turkish club of Antalyaspor in Antalya. His yearly income stands at 20 million.
4) Wayne Rooney:
Wayne Mark Rooneythe 5 ft 9 in forward plays for Manchester United since 2004 and he is in the England side 2003 onwards. Just like David Beckham, he among the most anticipated and popular English footballers of all times. He is also titled with the title of second highest goal scorer in the history of English Premier League. He currently earns a total of 69m per annum, making him stand at number four on the list.
5) Kaka:
The Brazilian superstar is the fifth highest earner in the football world. The former Real Madrid midfield attacker is currently signed with Sao Paulo on loan. He has represented Brazil since 2002 and played three World cups of 2002, 2006 and 2010. Kaka has also won the 2009 Golden Ball award.He has also been associated with UN food programme and is also the youngest ambassador selected ever for that programme.
The 32 year, 6 ft 1 in dashing footballer has a net earning of 67.5 million, letting him stand at 5th position among the wealthiest footballers.