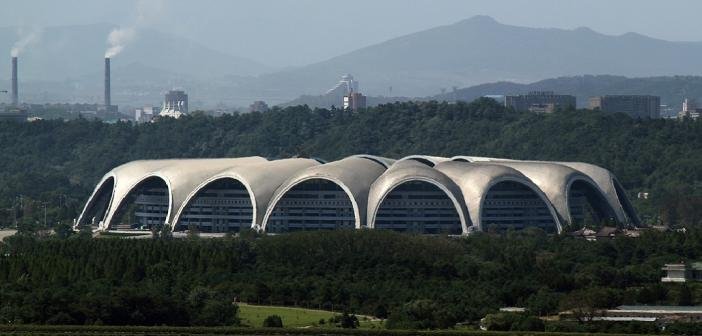 Largest Stadiums In The World
1
1) Rungrado 1st of May Stadium, Pyongyang, North Korea:
This is not just the largest stadium of North Korea, but in the list of largest stadium; it is at number one. It is used for both football matches and Athletics events. Whereas this stadium is also utilized Arirang festival, the largest festival in North Korea. It has a seating capacity for 150,000 spectators and also occupies a large area of 51 acres. Its stands were officially opened for the public on 1 May 1989. The stadium has a beautiful architecture, on the other hand it is very spacious unlike other stadiums. Besides sports events the stadium is used widely for the celebration of Kim II Sung. It is also the National home ground of the North Korean football team.
2) Salt Lake Stadium, Kolkata, India:
The largest Soccer stadium of India and the second largest all around the globe is the Salt Lake Stadium. It has the capability to accommodate officially 120,000 spectators. The record attendance was witnessed in 1997 in the football match between Mohun Bagan and East Bengal; in which 131,000 spectators enjoyed the match. The stadium was established on 1984. It is the home of the Indian Football Association.
3) Michigan Stadium, Ann Arbor, Michigan USA:
It is the American football stadium of the home team of the University of Michigan. It was officially opened for the public in 1927, It has a seating capacity of 105,491, whereas the stadium had the highest attendance ever on 7 September 2013 with a record breaking 115,109 spectators watched the football match between Notre Dame Fighting Irish and Michigan.

4) Beaver Stadium, Pennsylvania, USA:
It is the official stadium of Pennsylvania state university, also the home ground of Penn State Nittany Lions. It is the second largest American football stadium after Michigan stadium. It has a capacity for 106,572 spectators. It was opened for matches in 1960. The record attendance ever at this stadium has been 110,753 spectators in 2002.
5) Estadio Azteca, Mexico City, Mexico
It is the fifth largest sports stadium in the world. It is the largest football stadium in Mexico, whereas it also features boxing competition as well. It was officially opened in 1966. It has a capacity of 95,500 spectators at a time. It is the official home ground of Club America, whereas also the national stadium of the Mexican football team. It has the prestige of hosting two World Cup finals, one in 1970 in which Italy won and the second one in 1986 in which Argentina were the champions.